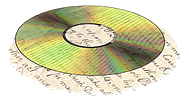 Historical Records Imaging Project
About the Project
The purpose of the Historical Records Imaging Project is to electronically image historically important Centre County documents and make them available to the public on the World Wide Web.
A grant from the Pennsylvania Historical and Museum Commission has enabled the imaging of the county's Naturalization Records, Revolutionary War Declarations, and Slave Records. Those records are presented here with accompanying articles, guides, and links to other relevant sites.
It is hoped that we will be able to add more records to this site in the future, in order to make some of the most important documents in the history of the County easily available to all.
Viewing the Images
The documents on these pages are in GIF format, which can be displayed by any graphical Web browser. Depending on your settings, your browser may resize the image to fit your screen. If the image appears too small, you may click on the image to obtain controls for resizing.
Technical Information
For technical information, contact Bob Lucier, rwlucier@co.centre.pa.us, County Records Manager and Webmaster.
---
An initiative of the Centre County Commissioners
This project is supported by a grant from The Pennsylvania Historical and Museum Commission